Here is a peek at my new spices from The Spice House... it is an affiliate of Penzeys. Same family, but looks like this is the sister running this one, and the prices are just slightly less than Penzeys, but the spices all seem to be the same. Give them a looksy... you won't regret it. And, if you are in Milwaukee right around Old World 3rd Street, they have a great little shop there... right next door to Mader's German Restaurant! Which by the way is an authentic, amazing place to eat!!
Okay, so here are my new spices/mixes
And, here is the MESS that I am dealing with!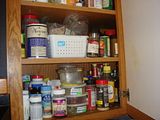 Everything is just thrown in... and takes FOREVER to find anything with the exception of the most used, which obviously end up on the outside... but you know what I mean.
Okay, so I worked on this and emptied my small cabinet to the side of the bigger more messier cabinet. And think it is looking better. I will probably still need the one above the stove... but I tend to use those spices more often, so hopefully they are used before the steam, etc gets to them.
Here are my "lookin better pics"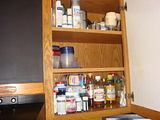 Okay, so much better if I do say so myself. However still a nuisance when you want the Zahtar or the Arglye Street Mix... so I went on Ebay and found these!!

I ordered 3 of them and then went to one of wholesale websites that I order containers for candles, potpourri, etc. I ordered 24 spice jars with lids to put all of the spices in little bags into.
Can't wait till eveything comes in and I have organization!! Well, at least in my spice cabinet!!