So... what are you having at your Super Bowl Party?
Some of the yummies we are having...
Take a couple boneless chicken breasts, put in a pan and cover with water. I usually season the water with salt and pepper and some garlic. Boil until the chicken is cooked. Shred chicken and place back in pan. Add 3/4 cup Franks Red Hot Sauce, 1 8 oz. pkg of cream cheese, and about 1 cup Ranch Dressing. Stir to combine, and then add about 3/4 cup shred cheddar to the mix. Pour into a baking dish, and place 1 cup shred cheddar on top. Bake in oven at 350 degrees for about 20 minutes until hot and bubbling.
Serve with celery sticks, crackers, tortilla chips.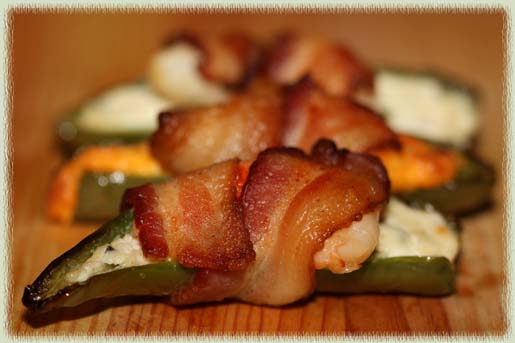 Bacon Wrapped Jalapeno Poppers
Halve jalapenos, and remove seeds. (may be easier to wear gloves to do this) Take 8 oz. pkg cream cheese, and spread about 1 to 1 1/2 TB of cream cheese inside jalapeno, top cream cheese with finely shred sharp cheddar, and then wrap the jalapeno with 1/2 a slice of bacon. Place on a cookie sheet and bake at 425 degrees until bacon is done to your liking. We like ours, crispy.
Named such because my hubby said it looks "bogus" but tastes amazing, years ago.
Take 1 block of sharp white cheddar cheese (I use Cracker Barrel Vermont White) and cut into pieces and place in a baking dish. Chop one onion finely, and place in with the cheese. Add 3/4 cup mayonnaise to the mixture and stir to combine. Add a couple of sprigs of fresh or dried rosemary. Bake at 375 degrees until browned and bubbly.
Serve with celery, broccoli, crackers ... good Lord, you serve this with just about anything and it will taste good!
.
And for me... who is trying to lose weight and get healthy... Fresh Salsa with cucumber "chips"
Finely chop about 1 1/2 pounds tomatoes, toss with 1/2 cup finely chopped onions, 1/2 cup finely chopped cilantro, 1 small jalapeno, chopped and seeded, about 2 TBS fresh lime juice and season with salt and pepper. Serve with sliced cucumbers.
Oh there will be more food, but there are a couple recipes for you to enjoy!